We're experts at printing and installing outdoor advertising hoardings for the property and construction sector. for the last 30 years we've gathered a wealth of knowledge to answer just about every questions that people have asked along the way! So to help you out, we've collated and answered your frequently asked questions in this advertising hoardings FAQ!
How tall are advertising hoardings?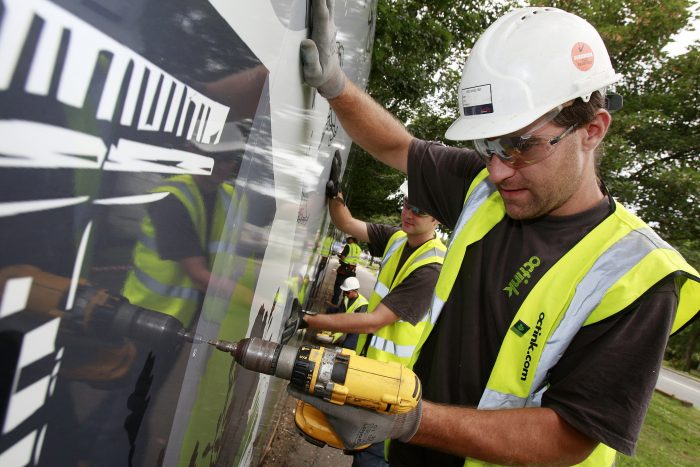 Heights vary according to the lie of the land, however the standard height for a construction site hoarding is 2.4 metres. That said we regularly see extended heights of perhaps 3 -5 metres to cover shop facades, provide safe pedestrian walkways or cover scaffolding.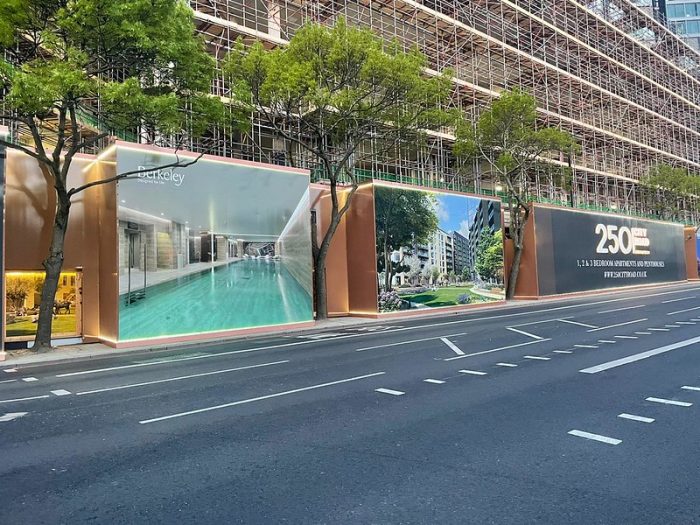 Many factors need to be considered applying hoarding graphics, from additional weights and loads to gradient shifts and whether power to support illuminated features is needed. A site survey will ensure everything is considered, accurate sizes for artwork are taken and to ensure that the most appropriate materials can be specified.
Does every site need an advertising hoarding?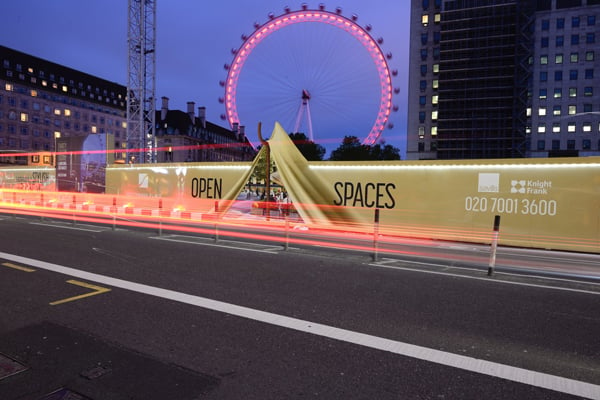 The simple answer is YES. It is a legal requirement for building site owners to provide a perimeter barrier to protect the public from the construction works going on within. Of course, in doing so the hoarding provides fantastic advertising potential and the ability to promote the site and your brand.
What material are advertising h

oarding

s made of?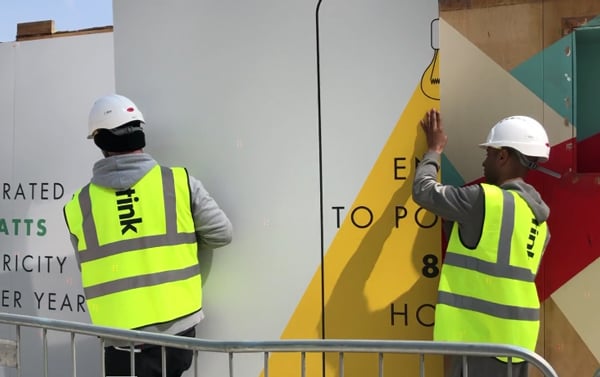 Primarily the base structure usually falls into two categories. For short term security freestanding 'mesh' fence panels are usually used, while standard permanent hoardings use a combination of timber faced with plywood.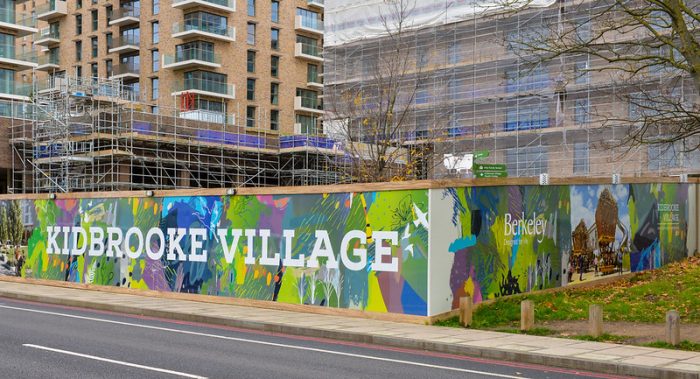 The good news is that both types of hoarding can be branded to produce high quality advertising or messaging. Banner sleeves or tensioned banners can be applied to mesh fencing while printed aluminium composite material (ACM) hoarding panels are the industry standard for the timber ply hoardings. At Octink we primarily work with hoarding graphics on printed ACM panels which we can even recycle post use.
What is 'Kicking and Capping'?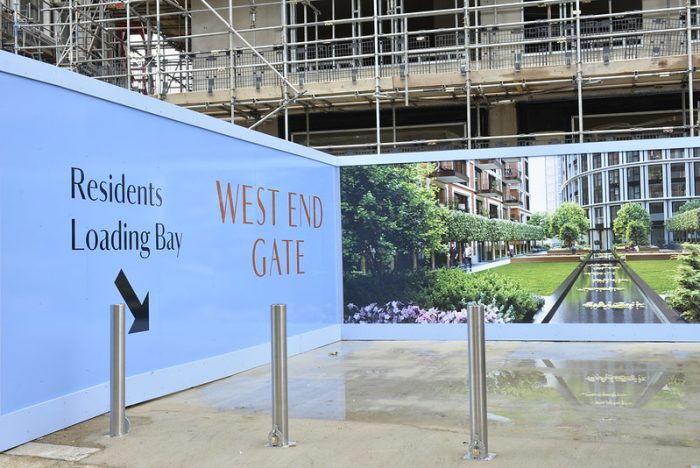 Kicking and capping are the lengths of timber that run along the bottom (kicking) and the top (capping) of a typical timber ply hoarding.
Generally, we use these skirtings as a method to secure the ACM panels in place, effectively 'sandwiching' them to the plywood to increase structural stability and to reduce movement. Equally from a design point the kicking and capping can be painted to frame and work with the printed graphics panels.
Do Octink provide surveys?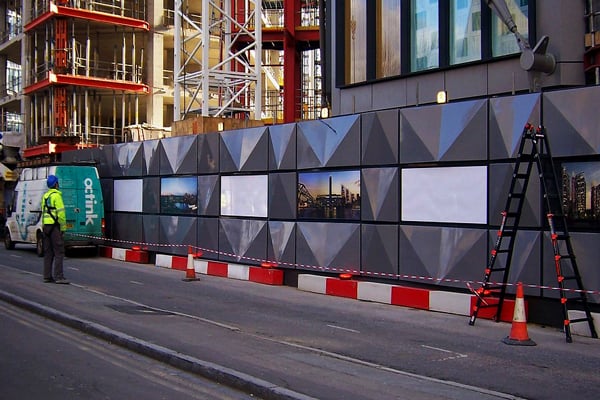 At the start of every project, we always recommend a hoarding survey is undertaken. It's the first step of our quality process and ensures that the ultimate design is fit for purpose.
Our surveys contain a list of 20 considerations and checklist points, all combining to give our project managers and installation teams the clearest possible brief as to what is required. This ensures that hoardings printed at Octink are perfect – every time.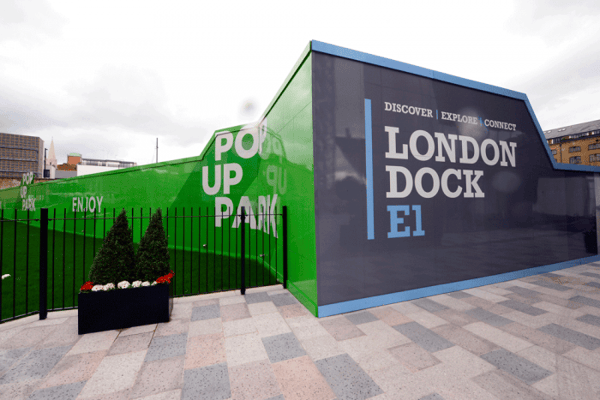 Everything from identifying rises and falls on the ground, to the positioning of breaks and returns that may affect graphic placement, through to condition checks and wind load factors are considered in our hoarding inspection checklist.
What makes a good design brief?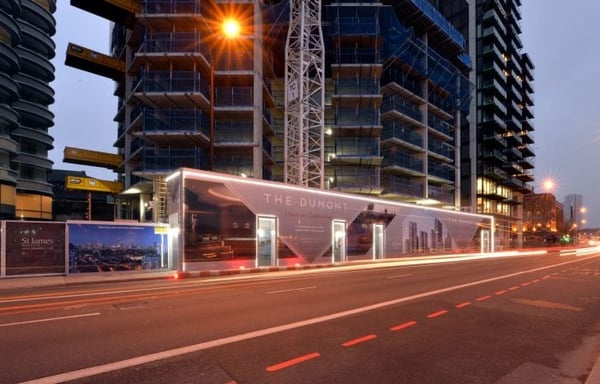 Some of the most frequently asked questions about hoardings involve the design requirements. Having a solid brief is paramount to a stress-free site hoarding! Our project managers are experts, so can help to fill in any blanks, but here are some basic top tips on what to include in your hoarding design brief:
Site location?
Expected life / duration the hoarding will be up?
Approximate height and length?
Status of artwork readiness?
Details of any electrical illumination that exists or is needed?
Details of any decorative features – 3D elements or living walls?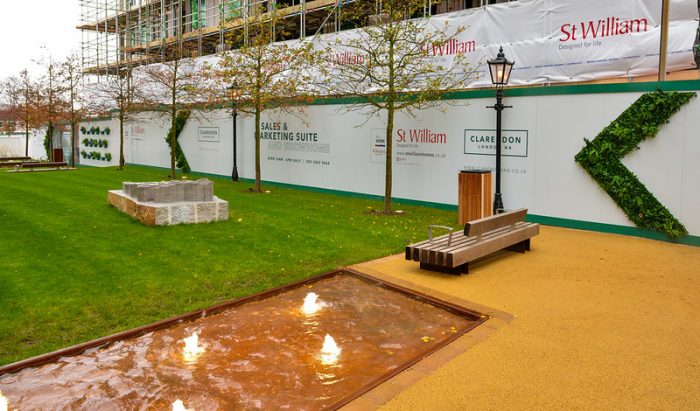 Can an existing installation be added to or matched?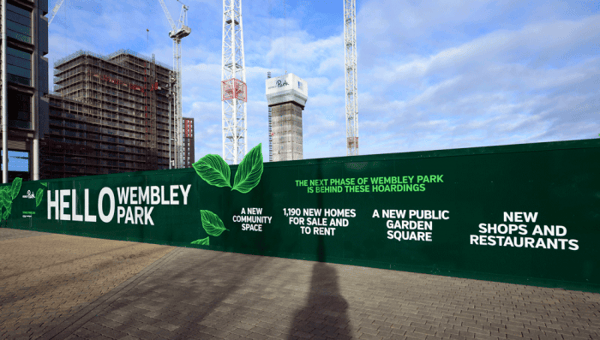 Yes – within 'tolerances'. Caution should be taken as colours may drift slightly depending on the inks and the original printing system used. Over time direct sunlight can be a factor where we see colour drift on even UV stable print and inks.
Where we have carried out the original installation, we retain artwork and colour records alongside in-house colour matching technology to ensure that updates can be undertaken seamlessly.
What is the print process?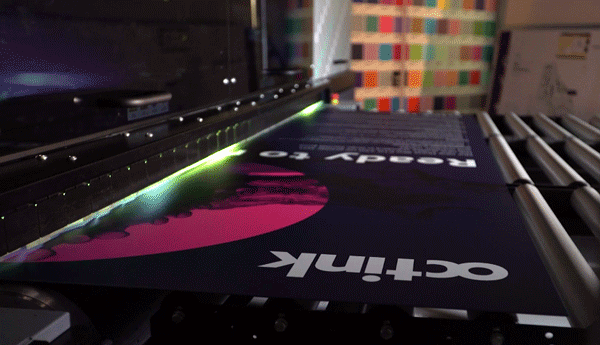 Large format printing is what we do best. We print your design directly to ACM panels using the latest UV printing technology for vibrant and long-lasting prints. You can find out more about our printers here! The panels are then sealed with a unique liquid laminate to provide the ultimate in anti-scratch and graffiti protection! Once ready, our installers deliver and install it for you.
What about maintenance?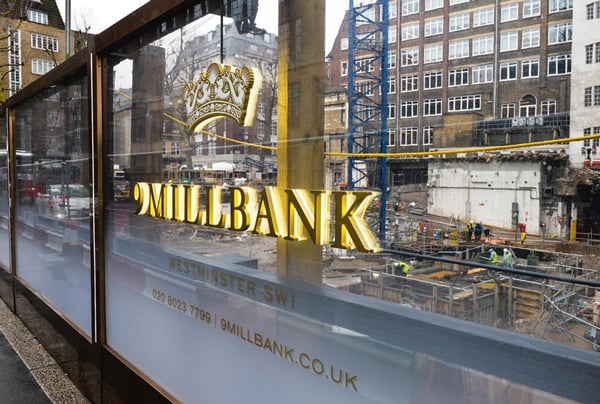 Maintenance is crucial to the aesthetic and structural performance of a hoarding. Therefore, we would strongly recommend a regime of cosmetic and structural checks are in place for every advertising hoarding.
Cosmetically, a regular 'clean' will ensure that graphics and messaging are kept vibrant and to a high standard of site presentation. We suggest that this is undertaken every month to three months (depending on location and adjacent activities).
Structurally, both the base structure and the graphic overlay should be inspected to ensure that no part of the structural integrity of the hoarding has been damaged or otherwise compromised. Again we'd suggest monthly, six monthly and annual checks in place.
Octink are able to provide bespoke maintenance contracts where we maintain your hoarding for you, keeping it clean and defect free.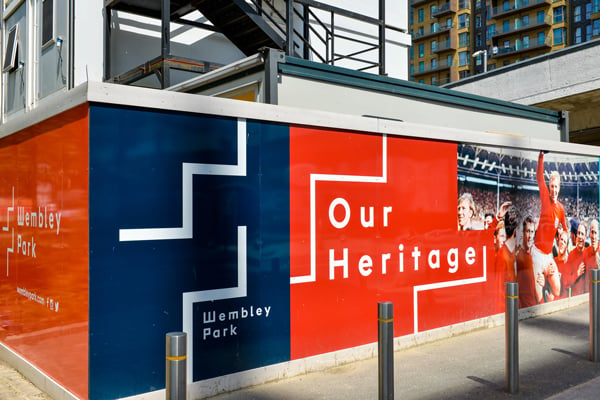 We've now answered the most frequently asked questions in this advertising hoardings FAQ. However if you have a different question or want further information – we're here to help so CONTACT US TODAY!
About us:
We are the experts in visual communication, whether it be signage, display graphics, hoardings, or events & exhibitions. Our expert team will handle your project end-to-end. This means that from initial conversations & design, right the way through to production & install – you're working with the best in the business! With this in mind, if you'd like to talk to us about a project, please don't hesitate to contact us today. Finally, we hope you've enjoyed this advertising hoardings FAQ.