Our long heritage in the signwriting and graphics field means that despite today's desire for innovative displays and technology, we are still passionate about and wedded to the benefits of traditional everyday signage.
A signwriting heritage
Back in the 1960's our business was technology free, instead relying on handmade crafted pieces of artwork, just like the BP caricature made for the opening of the Brighton Marina by HM Queen Elizabeth. Carefully crafteded by hand, he took approximately a week to produce. The artwork was drawn by hand in full size before being cut out using a hand-held jigsaw. We then painted the cut out with four coats of primer, one layer of undercoat and two of gloss, before marking and sign writing in the detail.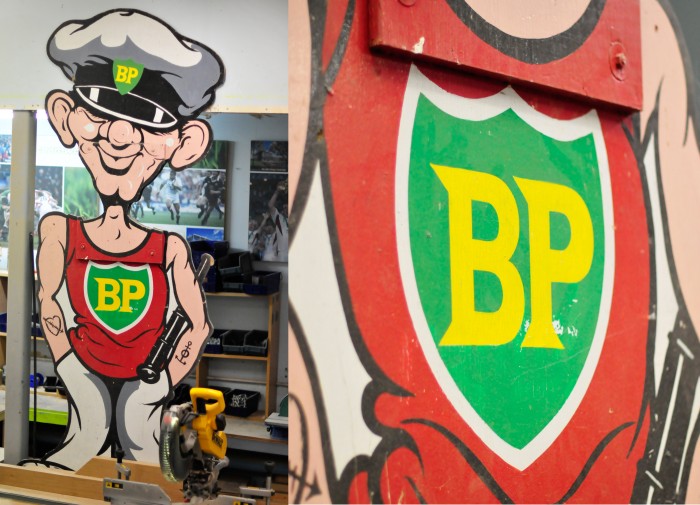 Bring on the technology
Today this project for BP would be produced in just hours and minutes utilizing complicated workflows, room filling Durst printers and intricate cutting tables all to a quality that is second to none! However, despite having this technology at our fingertips we remain loyal to the need to employ expert 'humans' at every step of our process, and while they may not need to be artists, their passion for detail and quality is still an essential ingredient as it was over 60 years ago when the business was established.

And so to today . . .
Octink has become a leader in technology driven manufacturing, working in partnership with some of the most innovative clients and design agencies in the UK, but while innovation and technology are clear drivers behind every project we are still experts in basic everyday signage that delivers clear brand image and builds reputation. Event graphics, outdoor signage, advertising hoardings and building wraps and banners all fall into this capability and are just a few of the everyday products we produce . . . .all in our DNA.