Whether you're part of a successful events team or just beginning an event planning career, paying attention to details and getting ahead is key. An event manager who plans and executes a well thought-out plan is going to be more in control and have a better overall event. And yet, you don't need expensive event management software or years of event planning experience to get ahead! The most successful event planners quickly define the type of event they are charged with planning, get to work on the basics!
Let's start with a favourite of ours… signage!
What signs do I need for my event?
Think back to any corporate event you've been to – how did you find your way around that unfamiliar place, how did you get to the right trade show stand, seminar room or breakout session? Event signage and wayfinding can help – or hinder – the whole experience of an event for exhibitors and delegates. This article deals specifically with event signage and branding rather than event stands, which Octink can also help you with.
Practically, wayfinding signage is crucial. Directional signage for entry, seminar areas, toilets, exits, bars and food is completely necessary. Legally, Health and Safety signage requirements have to be implemented to keep everyone safe. Experientially, no-one wants customers to wander round an event aimlessly, asking people for directions. A good event will have signage and wayfinding sorted so it's hardly noticed in the grand scheme of the customers' experience. A great event may also enhance the 'background signage' to reinforce brand awareness and values. Your logo on every sign will definitely build up brand recognition.
Now you have an idea of the different event signage you will need. But how can you make sure your event is a success?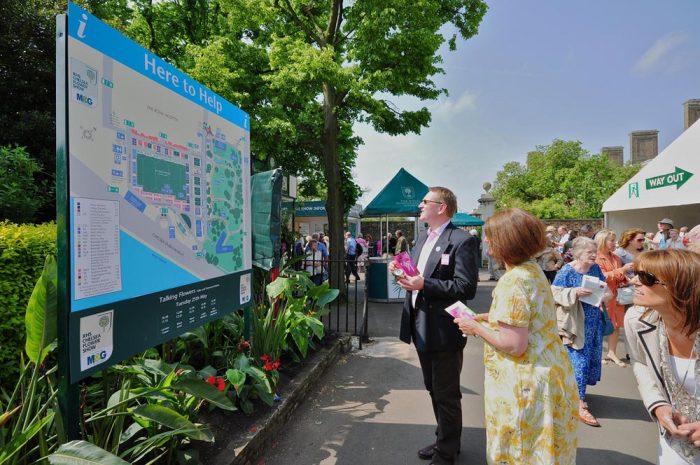 Now you have an idea of the different signage you will need. But how can you make sure your event is a success?
Build a team
Part of your event team is your signage supplier who is there to help you. They can offer insightful event design advice and solutions using their experience in the events industry. They've probably worked at most large exhibition spaces but will also be able to transfer their event experience to any size or shape venue.
The rest of the event team is equally important. Building a good relationship between all the parts – the creative agency, your sign supplier and the venue – will ensure you're more in control, have better communication and will reflect positively on the quality and accuracy of your event delivery. And don't be shy about asking questions – someone in the wider team will probably know the answer!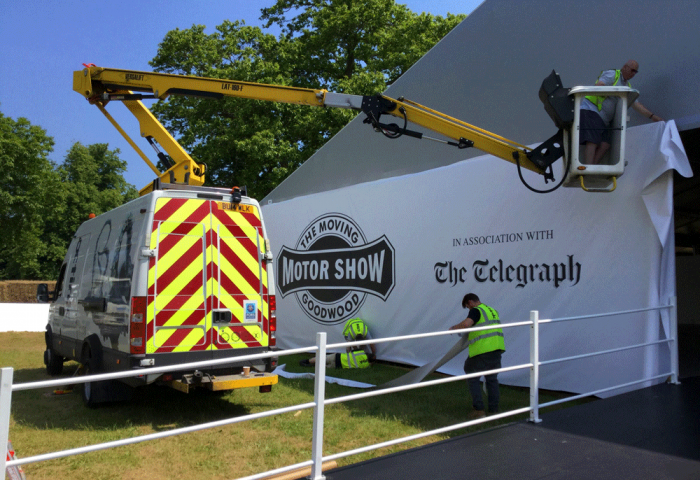 Check your permissions!
Every venue will have it's own guidelines on what you can and cannot do within its parameters. It's imperative to obtain these, read and circulate them before you start to avoid wasting time on ideas that are not suitable for the venue. And make sure you share these ideas with your signage provider – they may have a work-around method or alternative solution to implement within the venue's restrictions.
Another aspect of event planning is securing your licences. Book your work permissions, parking and access passes and any health and safety documentation as soon as you can. As the event approaches the list of things to be done will get very long, so this is a job that can be done early in the process.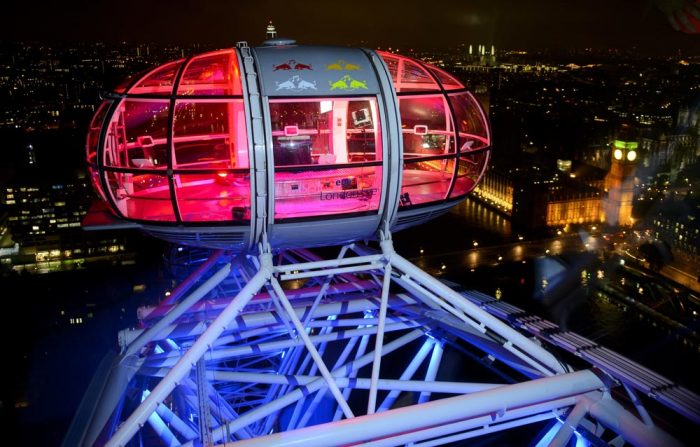 Visualise the customer journey
Think carefully about the positioning of your event signage. Remember the venue will be a crowded space during your event, so positioning is key. Think signage up high, above eye level as you walk through the customer journey. Ask yourself questions, 'Is the logo on the reception desk going to be hidden behind a queue of people?' 'Could the exit door or area be used for a final message as it's a prominent location ?' Also, what about illuminated signage to catch the eye?
A top tip here is that a survey with your signage supplier is crucial. Ask them to provide a visual template and size guides to the creative agency at the earliest opportunity.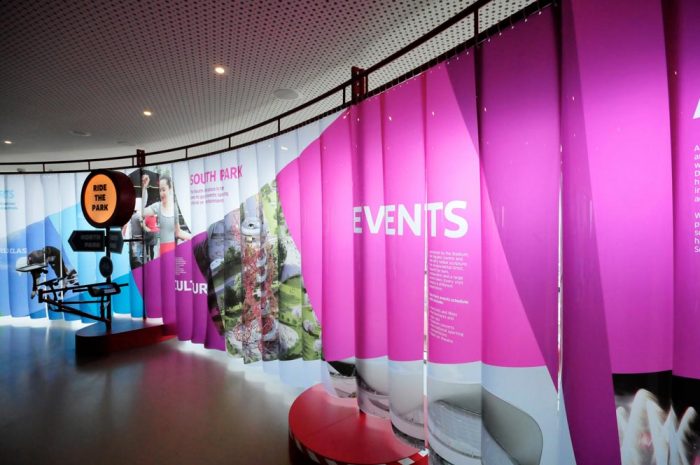 Get ahead with the detail
Give your creative agency and sign supplier clear and accurate briefs. In addition, issue a realistic timeline and stick to it.
And proof read – some proof-readers find they spot more errors on paper than on screen, so why not try this too? The cost of a reprinted sign will far outweigh the cost of an A4 print out. Read it aloud and get someone else to check it, especially phone numbers and web addresses. As the client, the final approval is down to you so double checking all the information and taking some quiet time to proof read will pay dividends and ensure your signage is 100% correct. Last minute corrections are costly and may not always be able to be delivered before event start.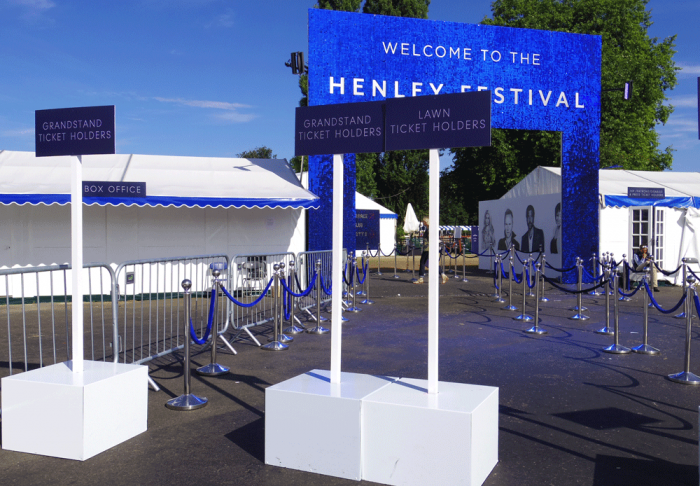 Installation and Removal
When you're planning the timescale and logistics, you must allow adequate time for installation and removal of the signage. Your supplier will be able to confirm how long this will take. This may well be out of 'working hours' so check the venue's working hours restrictions.
And another 'top tip' we've learned from our years of supplying event signage is to use adhesive backed arrows for directional signs, as these can be added and changed on site. This results in flexibility and one less headache for you on install day!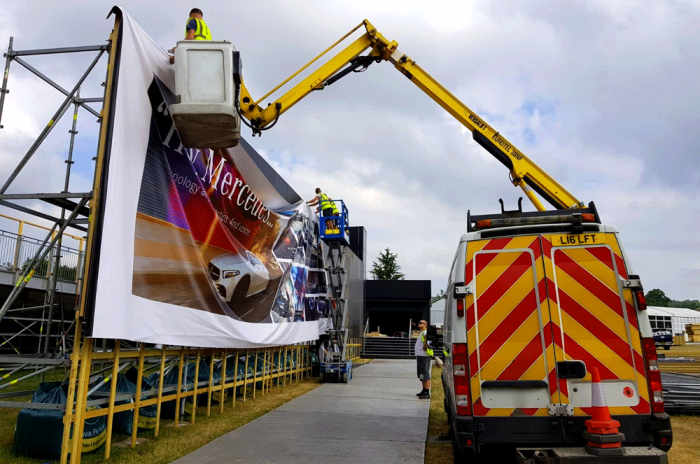 What Else?
You're sure to be looking for the 'wow' factor in your event. Merchandise and giveaways can be a great way to boost engagement post-event. Why not have a social media competition to bolster your digital marketing strategy? Your sign supplier can supply props for photo opportunities for your social events and event-goers to take selfies and post online.
And always have an event de-brief, for one-off or more regular events. Post-event evaluation with all parties is so important to keep improving and streamlining work processes.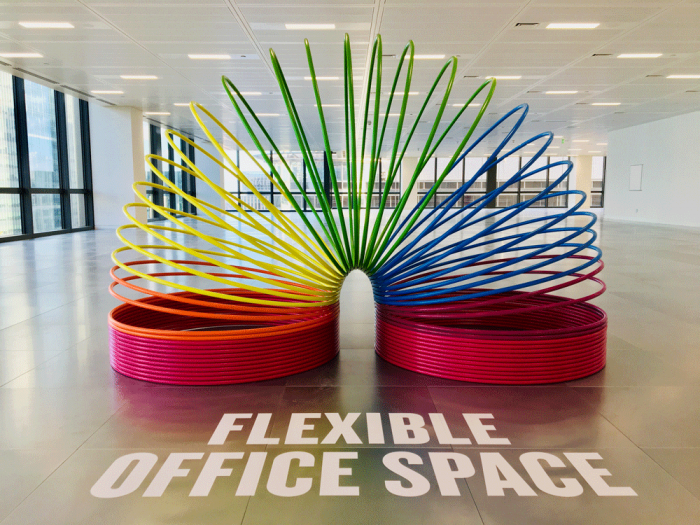 How can we help?
Octink has been event signage supplier for some huge events – Goodwood Festival of Speed, the London 2012 Olympics, Chelsea Flower Show & MIPIM to just name a few. If you have questions, or need an event or exhibition partner whist event planning, contact us today. You can see more of our event ideas here!
And at Octink, we also do event and exhibition stands and have loads of ideas about how you can make them work for you!. Talk to us today about your ideas, from small and large scale signage to tech integrations and display graphics!